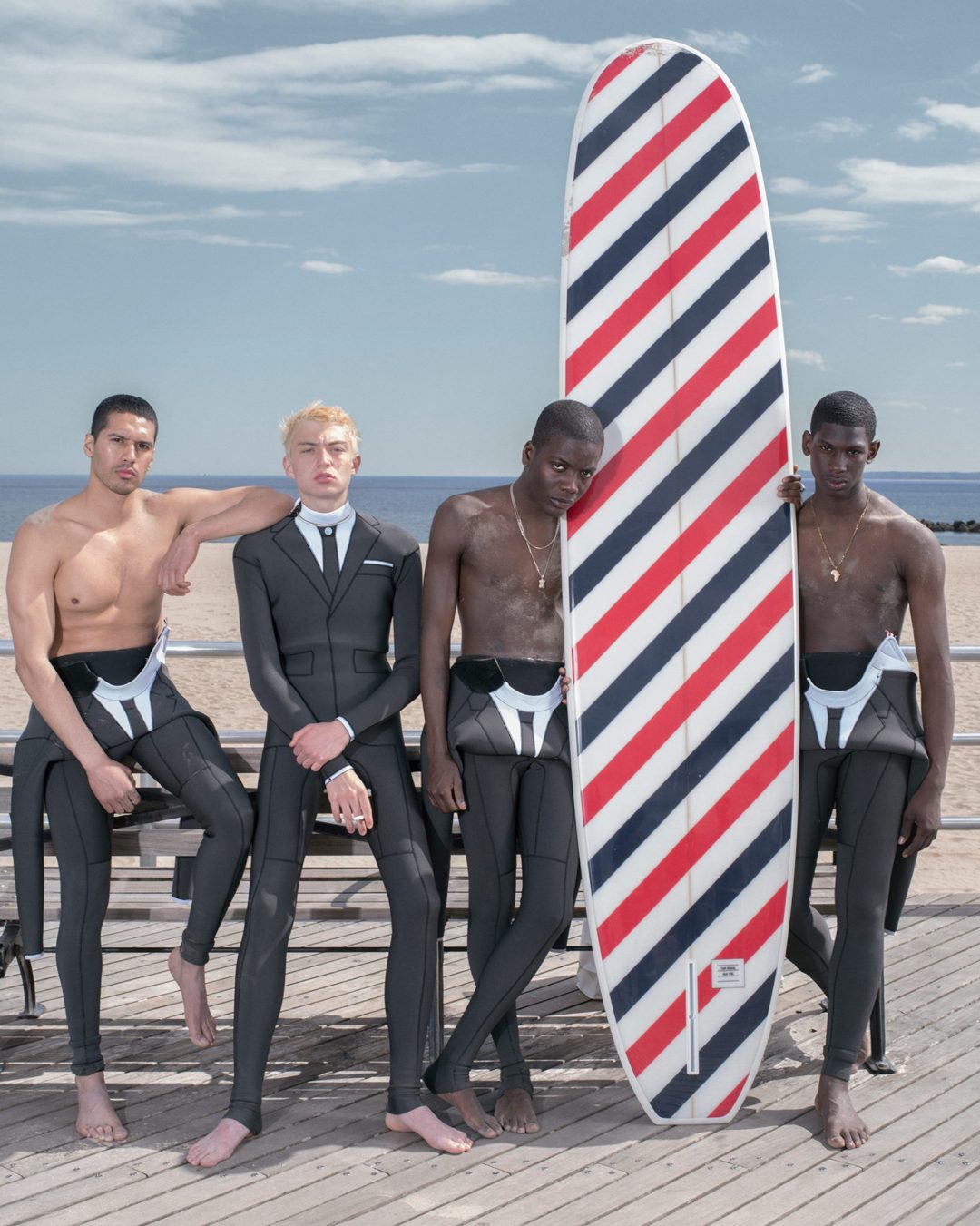 Aloha Mr. Browne,
I just started a fulltime office job, which is totally rad but also a bummer for me because I surf. Thank god I work for a surf brand, but it's still so hard to get out there while you're stuck in an office from 9 to 5. Gnarly times.
Apparently you did something well, because your wetSUIT is all over social media. It's totally radical, dude! The thing is I had to dig kind of deep to find out who the creator of the suit is.
I need that wetsuit, man! I want to feel the yeast form between my asscheeks while wearing it at the office. My coworkers would be so jealous! #yeastmode
When I finally found your site https://www.thombrowne.com/shop-men/beachwear/ I saw you also sell boards and I happen to need a new stick too. I just have a couple of questions about the suit and boards, so please help me out!
About the suit:
– How thick is the suit? Hopefully it's a 5/3 for the chilly winters here in Holland!
– How's the stitching? Double blinded, glued and sealed on the inside?
– Does it have a keypocket?
– It doesn't have kneepads, how come? Or is it just for casual yeastin' at the beach?
– Can I piss in it?
– Would I look like a kook in it? I need to try it out first!
About the board:
– Does it have an identity crisis? On your site it sometimes says it is 9 feet while other times it is 10 feet.
– How thick and wide is it?
– How are the rails? Full 50/50?
– How many ounces did your glasser pour on the deck and bottom? I want to make sure I don't leave too many footprints on the deck while gracefully stomping my way towards the nose!
– PU or epoxy?
– Who are the shaper and glasser?!
Surfing is expensive, man! I saw that you ask $3900 for the suit and $4500 for the board. Totally worth it if you're asking me, but it's still a little bit out of my price range. However I'm a "surf influencer" with exactly 541 followers on Instagram (@surfoloog). Therefore, the real question is: Will you be my sponsor, brah?! #stoked
Hangloose,
Ronald de Leeuw
www.surfoloog.nl
photo by:
ph: Wayne Lawrence
style: Ronald Burton
casting: midland agency
production: rreepplliiccaa
Copyright: Thom Browne